Need for speed 3: A news diet for overweight newspaper sites
Barrett Golding | November 23, 2015
Reading news is slow. A lot of people abandon news before it has loaded or just don't even bother tapping on things in the first place, even if they wanted to read them.
—Mark Zuckerberg, Facebook Townhall Q & A
Newspaper publishers: You need to know that a poor performing website loses readers and revenue. That was the subject of "Need for Speed 1: Newspaper load times give 'slow news day' new meaning" (additional data in Need for Speed 2). This post tells you what you can do about it.
So how slow is your site?
U.S. newspapers: Speed tests
This table lists performance test results for most U.S. dailies and alternative weeklies. Read 'em and weep.
'Do' go chasing waterfalls
A "waterfall" is a realtime interactive chart showing how a Web page loads into a browser. The Chrome Web browser has a built-in waterfall tool. It graphically shows you where your website flows, slows or even stops, file by file (including images, scripts and style sheets).
This video tells you how to watch your site's waterfall. The example uses the Las Vegas Sun, which loads in four seconds — a class-V rapids of a waterfall compared to the U.S. newspaper average of 17 excruciatingly slow seconds.
There's a waterfall built into your Chrome Web browser. Here's how to watch it flow:
In Chrome, go to your website.
Select View> Developer> Developer Tools (opens the Tools window).
Click the Network tab (next to Elements in the Tools window).
Check the Disable cache box (below the tabs).
Check the clear icon ("no symbol" next to the red dot).
Reload the page with the keyboard command: control-r (Windows)/command-r (Mac).
What's a publisher to do?
Start by visiting with your Web team. They're probably waiting for your go-ahead to turn your Google PageSpeed scores from slow-red into go-green. These online tools will help: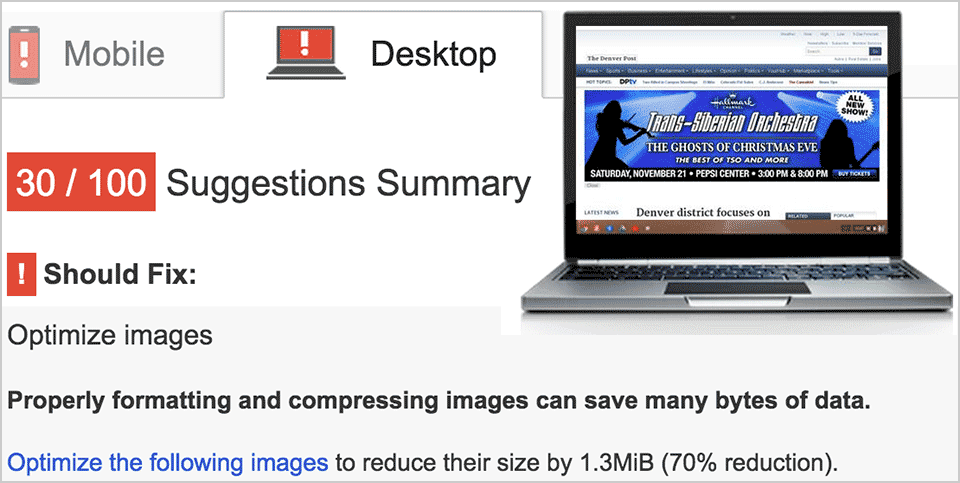 Each tool gives you site-specific performance advice. Follow it. If optimizing images will save 1MB or even 100K, do it. Your readers will notice the difference. Here are two guidelines:
Gather your writers, editors, developers and designers. Go through all your page requests (you have hundreds). Can some be eliminated or combined? (One large file loads quicker than several small ones because each request takes extra time.)
Ditch your tracking codes, video embeds and share buttons, Yep. You heard me right. You don't need five different analytics programs.
—Search Engine Land, "5 SEO Tips To Boost Page Speed"
As you go through your page requests, ponder the following:
Request less. Be careful what you ask for. Reducing requests was the main factor related to speedy sites in the above speed tests. It's also Yahoo!'s "most important guideline for improving performance."
Lose weight. Lighten your load. Find out the file-size of each request. The heaviest should get the most scrutiny when culling.
Set a speed goal. Create a performance budget. (Perhaps follow Vox Media's lead and declare performance bankruptcy.)
Learn from others.
Make speed a team sport. Every member of the team was responsible for building a faster NPR.org. Take testing seriously.
—NPR, "NPR.org Now Twice As Fast"
In our experience, most gains have been had from the simplest of rules: "reduce requests."
—Airbnb, "Performance Tuning"
The Post [looked] at every element on its pages, eliminating redundancies and ditching features that readers didn't use.
—Digiday, "How The Washington Post cut its page load time by 85 percent"
In my experience, small sites can often react and respond faster than large companies to changes on the web. Often even a little bit of work can make big differences for site speed.
—Matt Cutts (former Google engineer), "Gadgets, Google, and SEO"
We found that it wasn't so much the third-party beacons [slowing us down] as things we'd done ourselves. We are our own worst enemy in terms of font size, image size, Javascript, other pieces like that. It all adds up to a fairly slow user experience.
—Nieman Lab, "Slate is taking steps to reduce its page load time by 75 percent"
It's not only what you request but also how, when and from where. Those external scripts that make ads easy to block also slow page loads. Your readers won't be happy if they find out half their wait (and your weight) is due to poorly implemented scripts — and that they pay their cell carrier for your slow-loading ads.
How we deliver code matters more than how much our code weighs.
Scott Jehl, "Planning for Performance"
Google's new Accelerated Mobile Pages will boost the speed of some news sites. Don't let them leave your site in the dust. (AMP's maximum CSS stylesheet size, for instance, is 50KB; newspaper sites' average CSS totals almost 10 times that — 444KB.) Another thing that attracts audience besides page-speed is what my fellow RJI Fellows call "brain friendly" design.
Local newspaper sites – and especially smaller newspapers — have long broken all the rules for building a sticky site. Most still load painfully slowly, a problem that has gotten even worse with the shift to mobile news. They are difficult to navigate and — let's be honest — often ugly.
—Matthew Hindman, Shorenstein Center
But that's a discussion for a future post.
Top image: Daily calisthenics for sailors stationed at the wartime Naval Training School (Diesel), University of Missouri campus. Photo from 1943 Savitar yearbook.
Need for Speed series
Tools We Use series
comments powered by

Disqus